We craft experiences to make you smile
Team Building Events: We build experiences that encourage collaboration, get people moving, and foster friendships.
CREATE LASTING RELATIONSHIPS
We customize every event to fit your needs and budget. Whether you're looking for team bonding or just an adventurous way to celebrate a birthday, we've got you covered!
PLAYFUL EXPLORATION
Handstand Events
THE SF HUNT
KARTWHEEL
THE LOOP
THE SF HUNT
Your best friends. One amazing day. Each riddle lives in our app and leads you to a unique location. Solve these brain busters and then run, walk, bike, or take public transit to get to as many locations as possible. There's a live leaderboard, tons of great prizes, and a kick-ass after party.
Learn More
WE'RE ON A MISSION TO IMPROVE EVERY DAY
Who We Are
Handstand was born amongst friends. We discovered a unique type of friendship through going on crazy trips together, and now we create experiences where others can tap into that as well. We believe that friends should push each other, and in doing so, will forge more lasting and meaningful relationships.
"If you want to go fast, go alone. If you want to go far, go together."
- African proverb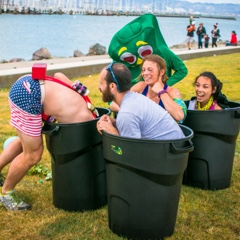 Halloween Hunt
10/31/21 in Everywhere